Electronic dispenser for industrial rolls!
Greater savings. Absolute hygiene.


| | |
| --- | --- |
| | Technical Data |

Material used:
Lid: ABS
Base: ABS
Cover rod-holder: painted steel
Roll-holder bar and supports: ABS and PP
Bar supports: PP
Rollers: aluminum core with anti-wear rubber coating
Housing for electric motor: POM
Dimensions: (height) 395 mm. x (depth) 320 mm. x (width) 370 mm.
Weight (without roll): 3,9 Kg.
TType of dispensed product: industrial towel paper roll
Max roll dimension: diameter mm. 280 x 260 h.
Power supply: nr.4 "Type D" batteries (optional version with A/C 230/115V power transformer)
Power consumption: 28W during dispensing - 2,5W in standby condition
Certification: the dispenser conforms with the essential requirements of the applicable EC directives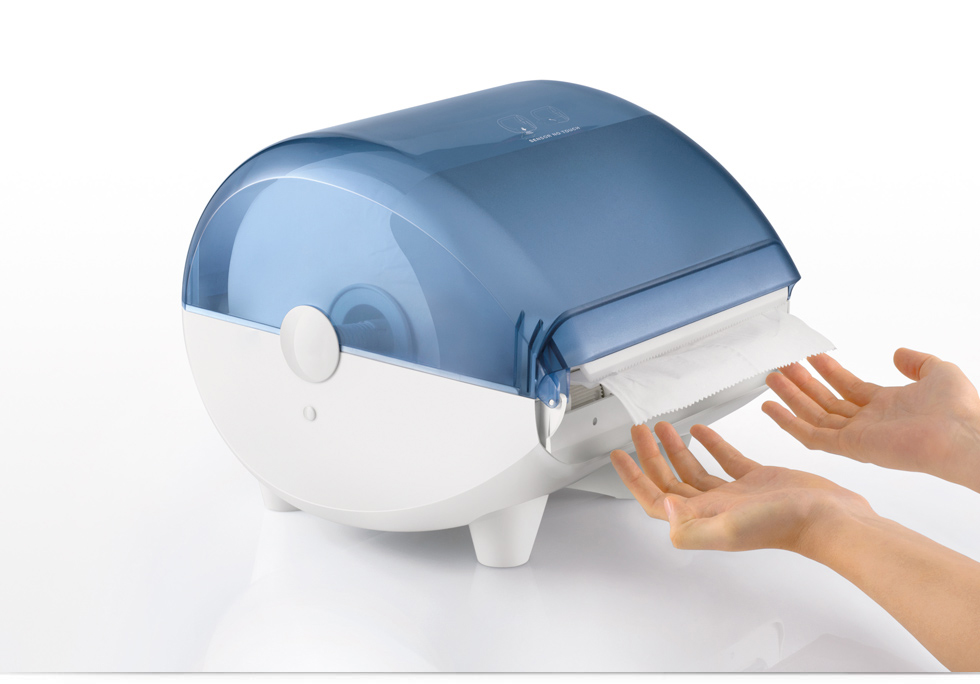 | | |
| --- | --- |
| | Smart Electronics |
Features
AUTOMATIC SENSOR:

is an innovative "NO TOUCH" system that allows the user to activate the delivery of paper
by simply bringing his hands Instinctively close to the paper outlet, without the need of locating a specific area.

CONTROLLED DISPENSING:

the dispenser delivers a portion of paper at a time, drastically reducing consumption
compared to a traditional dispenser.

CUSTOMIZING THE DISPENSING:

the electronic mechanism provides the user with a variety of settings:
length of the dispensed portion, delay between one delivery and the subsequent one, power of the sensor.

POWER SUPPLY:

by batteries or with optional 220V transformer.

CUTTING BLADE:

in safe position preventing injuries.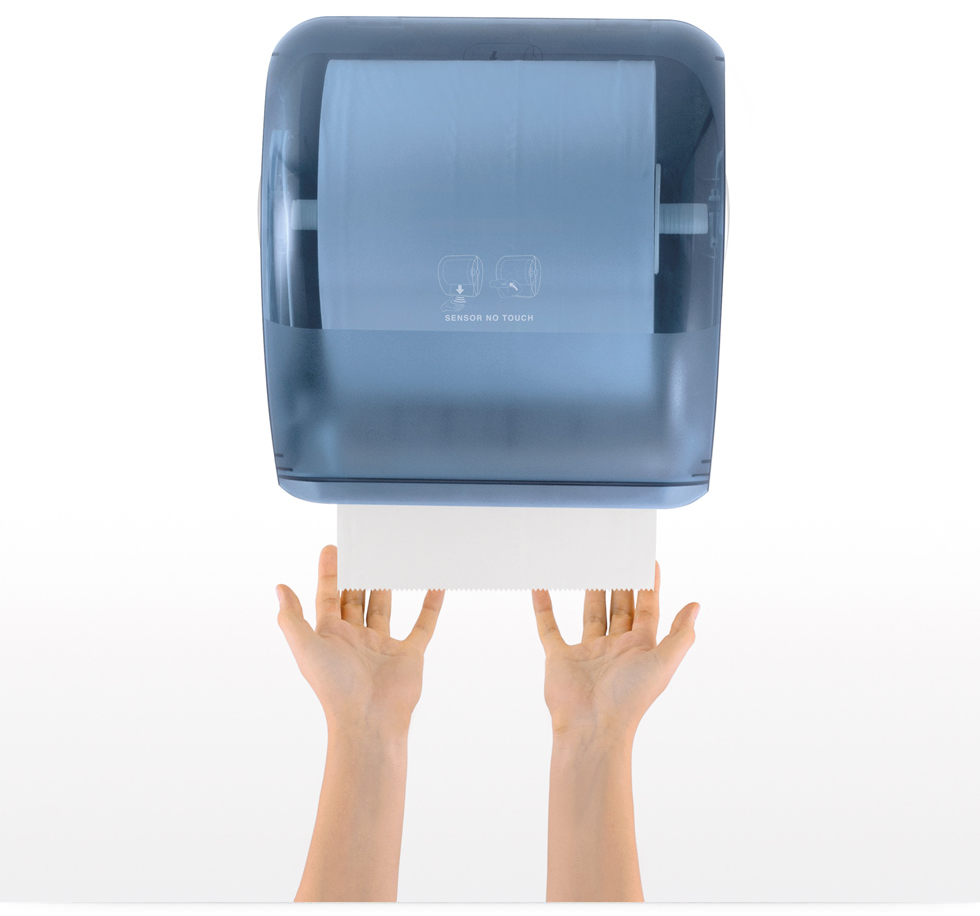 | | |
| --- | --- |
| | Industrial Rolls |

Features
Advan 850 is designed for housing industrial towel rolls, both with and without perforations.
The roll-holder bar with variable-diameter supports ensures its compatibility with most of the rolls available on the market.
Its modular mechanism, with secondary roller housed on the lid, makes it:

Easy to use
Quick to reload
Simple to mantain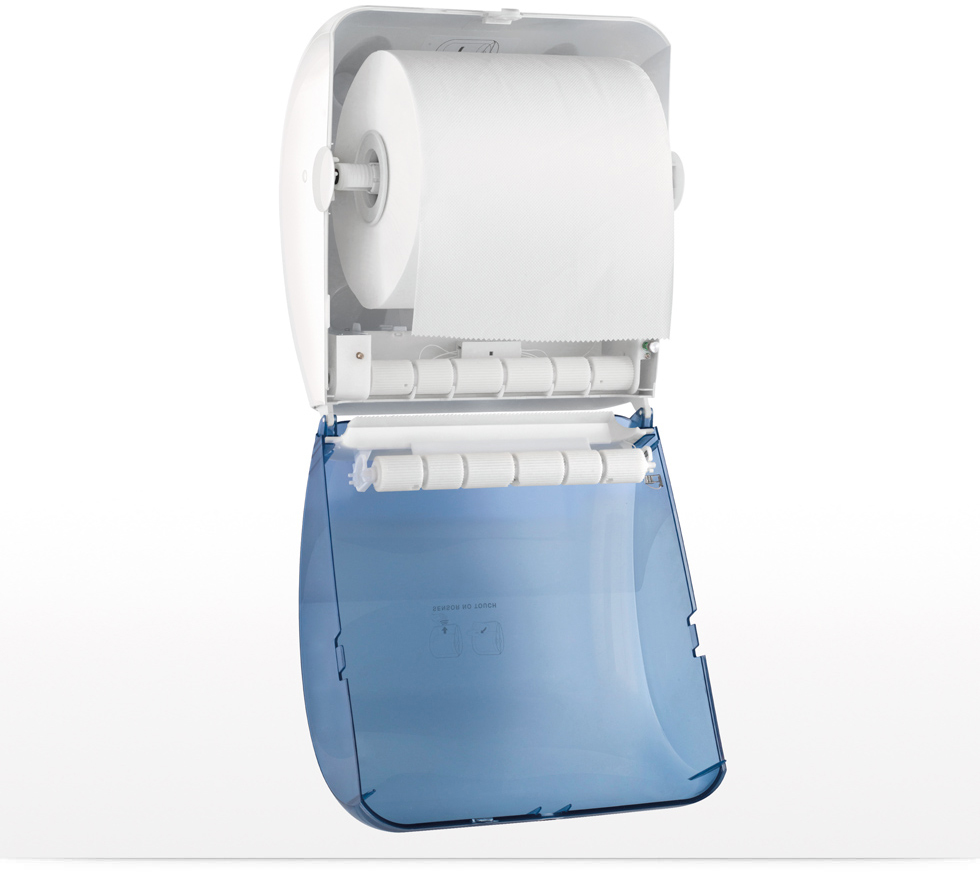 More information: where and why to use it.
Advan 850 is the first "NO-TOUCH" dispenser for industrial towel rolls, complies with H.A.C.C.P. regulations, ideal for :

food-companies, catering, hospitals

e

industries.

Equipped with an innovative

AUTOMATIC SENSOR

, strongly contributes to reduce paper consumption.
It can be used wall-mounted and placed on a table or workbench.
Mar Plast S.p.A.
Via A. De Gasperi, 7 cap 42010 Rio Saliceto (RE) Italy